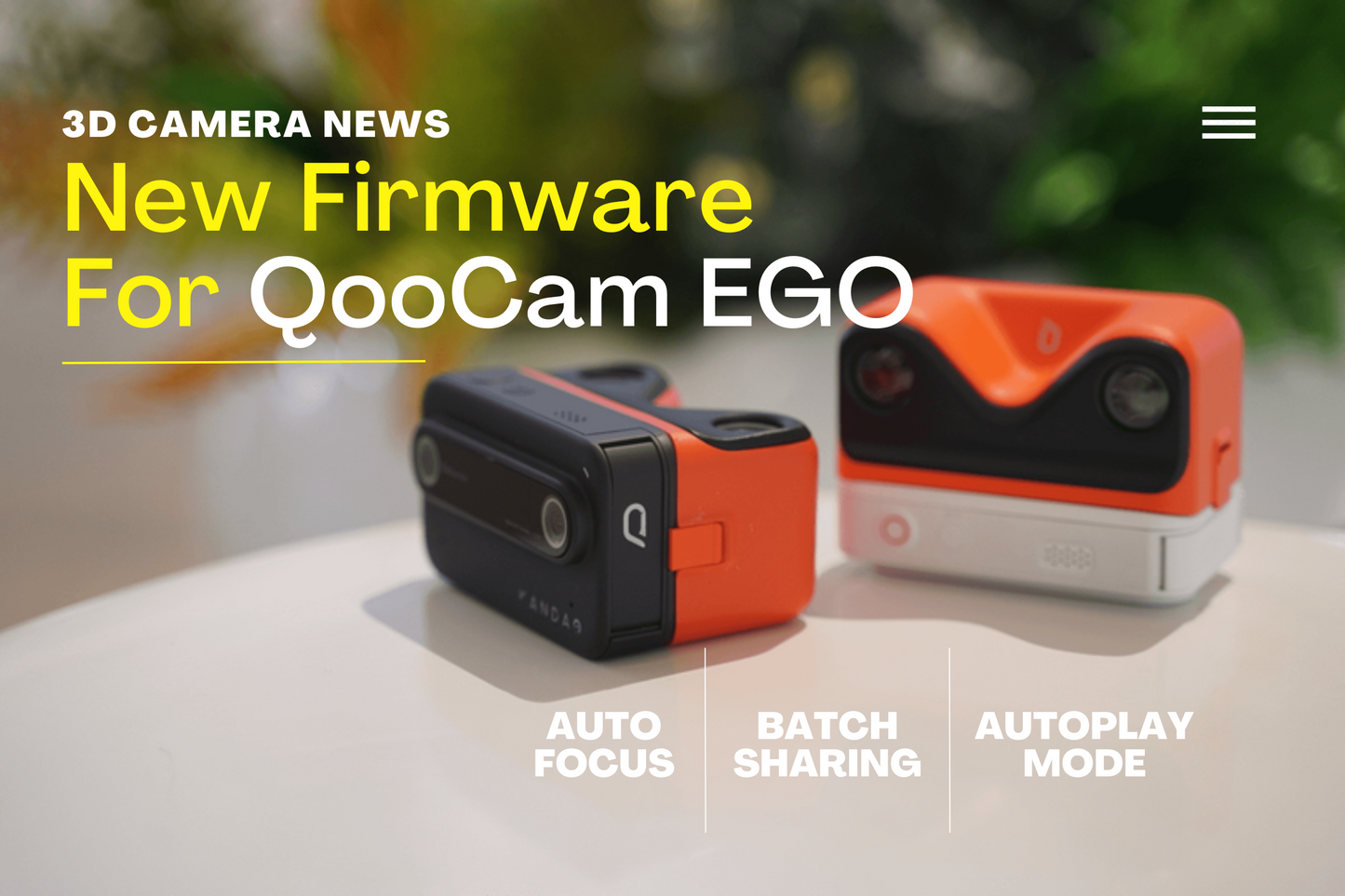 We have some exciting news to share with you today. We're unleashing QooCam EGO's firmware V2.7.10 which will take your photography and videography to the next level. With this update, you'll gain access to some fantastic new features that will help you capture even more stunning 3D content than ever before.
Let's get into the details.
TIP: The following is available today. You can download it HERE.
1.Add Autofocus Option
This one has been high on our wish list for a long time. With the new autofocus feature added to the QooCam EGO, it's now even easier to take great photos and videos, regardless of your skill level or experience with 3D cameras. The autofocus feature is designed to be intuitive and user-friendly, making it easy for anyone to start using the camera and taking great shots right away. With autofocus, you no longer need to keep fiddling with the focus. And if the distance between the camera and the subject doesn't change, you only need to focus once before taking multiple shots.

However, we also recognize that more experienced 3D users may prefer to have more control over their focus settings. That's why we've remained manual focus options in the QooCam EGO as well. You can choose from six different focus settings, which can be adjusted using the touch screen or side buttons. This allows you to customize your focus settings to suit your individual needs and preferences, whether you're taking shots from a distance or up close.

We're committed to providing an entry-level 3D camera that is accessible to everyone and to helping more people develop an interest in this exciting field, regardless of their skill level or experience with 3D photography. Whether you're just starting out or you're a seasoned 3D pro, we believe that the QooCam EGO has something to offer everyone.
2.Batch Sharing Support
EGO sharing, for those of you who don't know, is a unique interactive option of QooCam EGO. You can generate a sharing code for the photos and videos that you have captured with your QooCam EGO. Other QooCam EGO users can download them onto their own camera using the code without the need for additional devices or apps.

It's a great way to instantly share your 3D content with friends, family, or other QooCam EGO users, making it easy to showcase your creativity and connect with others who share your passion for 3D photography and videography, providing a seamless sharing experience.

Generating multiple codes and downloading files one by one can be time-consuming. Now, with the batch file sharing and download feature, you can share multiple files at once with just one sharing code. This makes it easier and faster to share your 3D content with others, as well as helps to facilitate communication and collaboration between QooCam EGO users.

It's one more reason why the QooCam EGO is an ideal choice for anyone looking to capture and share high-quality 3D photos and videos.
3.Autoplay Mode
QooCam EGO comes with a viewer, making it a convenient way to show your digital 3D photos to others. Autoplay is particularly useful when you're using the viewer, as it allows you to automatically play through all of your media files in a slideshow. This means you can sit back and enjoy your 3D content without having to constantly remove the viewer or fiddle with buttons.
You can customize the settings to change the speed of the playback, making it a personalized experience. With autoplay, you can fully immerse yourself in your 3D content and experience it in a way that feels natural and intuitive, making it easier than ever to view photos and videos.
We're constantly working to improve our products, and we hope that this latest firmware update enhances your experience using QooCam EGO and helps you get the most out of it.
If you encounter any issues during the update process or have any questions about the new features, don't hesitate to contact our support at service@kandaovr.com.