Kandao Technology is proud to announce that the Kandao Meeting Ultra has been honored with the Good Design Award for 2023. Good Design Award is one of the most prestigious design awards globally, recognizing outstanding design and innovation across various industries. Kandao Meeting Ultra's selection for this accolade underscores its exceptional design and advanced capabilities.
Kandao Meeting Ultra: Redefining Conferencing Excellence
Kandao Meeting Ultra is an all-in-one conferencing device that has revolutionized the way professionals connect and collaborate. Combining cutting-edge technology with elegant design, it offers a comprehensive solution for both in-person and remote meetings.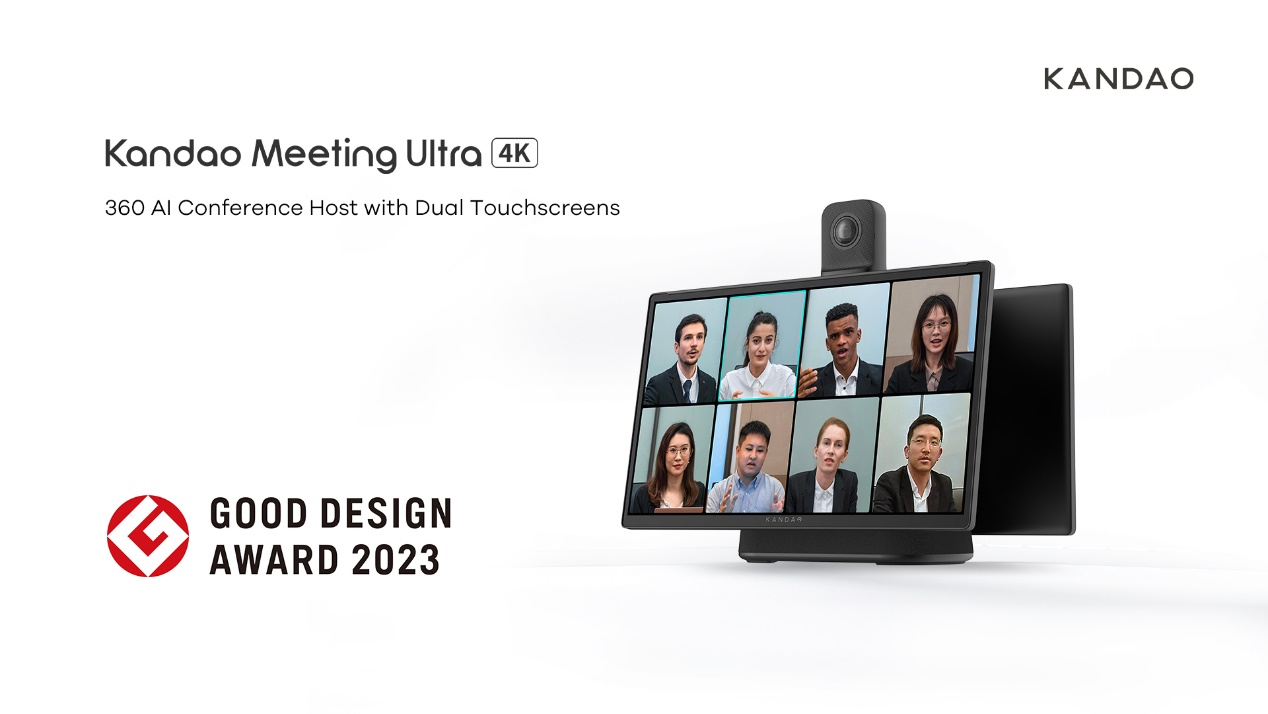 Key features of the Kandao Meeting Ultra include
360-Degree Panoramic Views
The Meeting Ultra features dual fisheye lenses that capture entire conference rooms in stunning 360-degree panoramic views. This ensures that no attendee is left out, providing an immersive meeting experience.
4K Resolution with HDR
With the capability to output in 4K resolution at 30 frames per second (FPS) with HDR, the Meeting Ultra delivers crystal-clear video quality, even in challenging lighting conditions.
Dual FHD Touchscreens
Dual FHD touchscreens positioned beneath the camera facilitate real face-to-face collaboration. Participants can see the meeting content while maintaining eye contact with remote colleagues.
Advanced Audio
The full-duplex audio system, featuring an eight-omnidirectional microphone array and a 10-Watt Hi-Fi speaker, ensures clear and natural voice transmission with a wide voice pickup range.
AI-Powered Features
The Meeting Ultra employs state-of-the-art AI detection algorithms and motion tracking to achieve low latency and accurate speaker localization and auto-framing. This ensures a seamless meeting experience.
Versatile Connectivity
Meeting Ultra can connect to computers as a USB device or operate as a stand-alone video conferencing terminal with its Android OS. It supports screen sharing through HDMI and screen mirroring and offers PoE power supply for network connectivity.
Data Security
Kandao prioritizes user data security, with the Meeting Ultra designed to protect privacy. It does not store IP addresses or locations, supports one-step log-out, and does not provide an open API.
Kandao Meeting Ultra has quickly become a game-changer in the world of conferencing technology, enhancing communication and collaboration for businesses and organizations across the globe.
About Kandao Technology
Kandao Technology is a leading innovator in the field of intelligent visual collaboration solutions. With a commitment to excellence and a focus on cutting-edge technology, Kandao empowers businesses and individuals to connect, collaborate, and communicate seamlessly in the digital age.
Learn more about Kandao Meeting Ultra.